Patient Testimonials
---
Share Your Experience!
Discover what our patients have to say regarding their office visit, surgical experience or recovery process. We also encourage our existing patients to share their own experience!
George Vallejo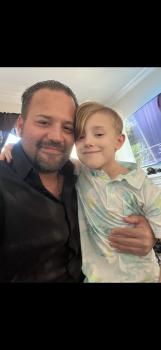 "I used a walker, cane and sometimes had to be in a wheelchair. For 4 years I couldn't walk, or do any of the things a person in their 30's could do. Until I came to Northern Orthopedic's and meet Dr Ron James. Where Dr. James operated on me and gave me 2 new hips at the age of 38. I was one the youngest patients to have needed a surgery like this! This place changed my life and so did Dr. James. He is one the best Doctors in country, if not the world! I am forever grateful to all the wonderful people at Northern Orthopedics (Sacramento), especially Dr. Ron James!"
"Finding this office has been the single highlight of the last decade of my life. I was injured in 2007. I've had multiple doctors, multiple procedures, none of which have been effective but all of which caused additional widespread deterioration and pain. Drs James, Lee, and Cerruti and Physician's Assistant, Janelle, took the fact that I am a reasonably intelligent human being into consideration and spoke to me as the sole expert on my body, symptoms and pain. Anyone with chronic pain can attest to the fact of how rare that is! I'm going in for my fifth reparative surgery and cannot express how grateful I am to finally be treated by competent, caring professionals. Nor can I explain the difference knowing the next procedure will actually be the one that finally, truly repairs your body. To put that in perspective, I will add that D.r Lee repaired my ankle. I didn't realize how dramatically different walking would be until I walked up a short flight of stairs. ALL BY MYSELF!! When I realized that I had just done that, I cried, at the top of the stairs. Like a baby.
My only complaint is they would not do all the needed surgeries in one shot on one day. Lol. I guess I can't have everything"
"I had my left hip replaced back in 2015. Dr. James did a great job and its been five years and my hip has been awesome. "
"
I've known Dr. Phong Le for almost five years. Both times I have seen him I had pretty bad injuries. My most recent visit was for a displaced fracture and ruptured lateral tendons in the ankle. I was so happy to have him as a doctor again. He is a doctor that actually cares about his patients I feel like family there by him and his staff. They are fabulous people with exceptional service. You can tell they all care. I was very nervous to have surgery because I have a 3 yr old daughter that had to have eye surgery and a husband with a head injury and I also take care of my father in law whom has severe Alzheimer's. When I found out I had to have surgery I was like " no way" I have too many responsibilities , after all I had to be non weight bearing for two months but after he explained that it would be a faster recovery time and safer for my body versus being in a non weight bearing cast for 6+ months I felt assured that I was in good hands. He was a complete gentleman from the beginning and before and after surgery. He even called me from his private line to check up on me to make sure I was ok later in the evening after he traveled all day after surgery. I would say that's a great doctor. My healing process has been good and well maintained by him and his staff. I'm still healing and have a long road ahead but I can finally take a stand up shower and walk without my boot. He also helped me until I got into pain management. I already have a lot of health issues but having a doctor like him gives me hope because I have other not great doctors, he's helped me to believe in the doctors oath to help their patients. He is a rare find and I'm so blessed to have been sent there. His staff is amazing and in the midst of my pain and depression they cheered me up and were always polite in person and on the phone. Thankyou Dr. Le and staff I love you all! I truly believe God sent me there!!"
"Dr Jackson is extremely through and so nice! He listens to all my concerns. He always makes sure we are on the same page with treatments and I never feel rushed out of the office! So thankful to have his office and staff caring for me! "
"Dr. Ron James performed a total hip replacement on 1-19-2016. He was great from start to finish and did a great job, with a great bedside manor. The operation was a total success with a quick recovery. I am doing great, no pain and don't even think about the fact that I have a new hip. Awesome job! "
robert lannon
ife style, working full time and so done with ANY
"I'd just like to let Dr James that I had hip replacement, roughly 2003, it has been a boon to my activity...It helped me get back to an active lifestyle and so done with ANY pain medication !"
Gigi C.
Ext. Fixator, Plate, graft (Shattered Right Wrist)
"On Feb. 25, 2016 I fell and shattered my right wrist. From the time Dr. James arrived in the emergency room until the time I was discharged he was professional and his bedside manner was the most caring and tentative that I have ever experienced. (with this surgery totally 18) Dr. James was very thorough and upfront with the work that needed to be done and what I could expect as a outcome. Dr. James also made himself available to me and my family 24/7. I have never in my 16 previous surgeries ever had a doctor give me 24/7 access to him/her. I can not say enough great things about Dr. Ronald James and his work or work ethic. I shared my xrays with other orthopedic surgeons. They all said the same thing, "the worst case of a break they have ever seen", and the work Dr James did was nothing short of excellent and awesome. I would not hesitate to have Dr. Ronald James ever work on me if the need presented it's self. His P.A. Jason is just as kind, caring and thorough. The staff is very courteous and helpful as well."
Todd
partial shoulder replacement
"Dr Ron James is the 1st doctor I have ever felt confident with regards to my arthritic shoulders (and I have seen my fair-share of them). I am very please with my right partial replacement done beginning of May 2016, and I am looking forward to getting my left done in the near future. Thank you Dr. James for handling my situation the best way possible, and for making sure I understand all the medical terminology and what your plan is for me."
"Patient care was good. However, trying to get a hold of someone on the phone is very difficult. A returned phone call never happens. "
Mark C
Posterior hip replacement
"I had a posterior hip replacement done the 19th of January 2016 in Folsom Mercy Hospital. Dr. James was my surgeon. I feel I had good results and I'm happy with Dr James. I know everyone is different and it hasn't been three months yet for me. I'm a week short of that. But I've advanced well and am able to hike again. Before the operation I was forced to take an opioid pain pill to hike a half a mile and I limped due to pain. Now I can hike as far as I like pain free. I still can't quite touch my toes but that seems to be the last thing to come back is getting total mobility of bending and reaching like before. I expect continued healing and recovery back to feeling like I never had a hip replacement. If you have to get surgery, I do recommend Dr James. Please expect a bit of a struggle with pain and mobility the first week to two weeks. But after that you'll notice even faster advancement and improvements on a daily basis as I did and I still do. Do your physical therapy, time your pain meds for therapy /exercise so you can push yourself. Things will improve after that first week or two. Best of luck, Mark C "
Kyle Arnold
bilateral patella tendon repair
"Hi My name is Rose Arnold. My son was blessed to have Dr. James as his surgeon. His staff and PA are excellent. I am an RN. My son lost his insurance and had to get medical. I tried for 4 months to find a MD who would accept him. He was immobile. He could not walk. The medi-cal world did not care at all. He should have had surgery two weeks post injury. It was six months later. In the six months of no care, he ruptured his other patellar tendon. I can not tell you the frustration I had seeking good care for him.
God Bless Dr. James. He is kind, caring and not greedy. He accepted my son and got the best care possible. He is a great surgeon. Very kind. Thank you Dr. James. As an RN, I care deeply for my patients and want to help them the best way possible. My son had horrible care until we met you. You are our life saver and a blessing. Thank you for caring for people and not letting the ole mighty dollar rule your practice. We will never forget you or the care you gave my son.
Anyone would be blessed to have you as an MD. This is a great practice.
Kindly,
Rose Arnold RN"